On Sale May 2, 2017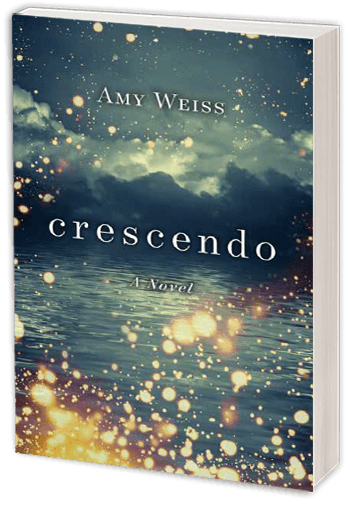 "Til death do us part," Aria and her husband swore. But death came much too soon.
When tragedy strikes one summer night, everything is taken from Aria: her family, her future. Desperate to find meaning in life after loss, she and her beloved mare leave their home in search of something—anything. It feels like the end of her life. It is the beginning.
If she can find her way through the forest of grief, she will discover an incredible adventure waiting on the other side. Hers is no ordinary journey—it is a journey into the nature of the soul. Each step takes her further into uncharted lands. The cave of darkness. The lake of time. The human heart. Each place she goes and each person she meets has a new lesson to teach her, and soon she comes to learn the most astounding one of all: her loved ones have never left her. They are with her throughout the lifetimes. They are eternal and immortal.
And so is she.
And so are we.
Praise for Crescendo
"Crescendo is a lyrical travel tale, a myth, a map, a parable—all of these and more. Amy Weiss has the skill of a poet, the dramatic air of a storyteller, and the heart of a mystic. This little book is lit from within—lit with intelligence, spirit, hope, and mystery. Weiss weaves a spell that caught me in its luminous threads from the first word to the last. I feel expanded having gone on the journey of Crescendo."
— Elizabeth Lesser, co-founder of Omega Institute and New York Times best-selling author of Broken Open and Marrow: A Love Story
"Crescendo is a very special book. Written with the poetry and magic of an adult fairytale, this novel has all the elements that touch my heart: a love story that transcends lifetimes, the deep connection between animals and humans, reincarnation and the true nature of the soul, and the eternal value of kindness. Please give yourself the gift of this beautiful book."
— Cheryl Richardson, New York Times best-selling author of Take Time for Your Life and The Unmistakable Touch of Grace
"With the precision and elegance of a poet, Amy Weiss delivers us into a timeless world of limitless love. Crescendo is an exquisite journey of inquiry through life, afterlife, birth, death, and beyond, beckoning the soul to subscribe and surrender to the music and mystery that surrounds us."
— Nancy Levin, author of Worthy
"Amy Weiss's novel Crescendo answers many real-life questions about eternal love, life and the afterlife, and our soul's journey in this wonderful once-upon-a-time story. A must read."
— Char Margolis, intuitive psychic medium and author of Questions from Earth, Answers from Heaven
"Deep, reaching and poetic, Crescendo will invite you to reexamine your life, causing you to find new beauty and meaning in it. Weiss delves into the fundamental questions that are inherent to all our journeys: Why are we here? What is the meaning of life? Can what we love ever be truly lost to us? How are we connected? The answers, you'll find, are a gift that you'll take with you long after the pages of the novel are shut. Weiss is a powerful storyteller—and anyone who has ever loved or suffered loss will find comfort and meaning in her writing. Reminiscent of The Alchemist, Crescendo is a story of self-discovery and connection. The story Weiss writes is an important story for us all."
— Laura Lynne Jackson, New York Times best-selling author of The Light Between Us
"What an unusual novel! Both bold and delicate, Crescendo takes its shape from music, fables, and dreams, and is suffused with a kind of spiritual lyricism all its own. It follows its own rhythms, tells its truths from a perspective that is startlingly vast. The book is woven through with meditations on loss and time, love and compassion, and delivered with gentle confidence, as if from a wise and spiritually advanced friend. If you surrender to its radiant spell, you may well find yourself thinking differently about life, death, and, well, everything."
— Sharon Guskin, author of The Forgetting Time
"Crescendo is a powerful tribute to the soul's evolution, sure to help many who are grappling to reclaim their hearts after the loss of great love."
— Danielle MacKinnon, author of Soul Contracts and Animal Lessons